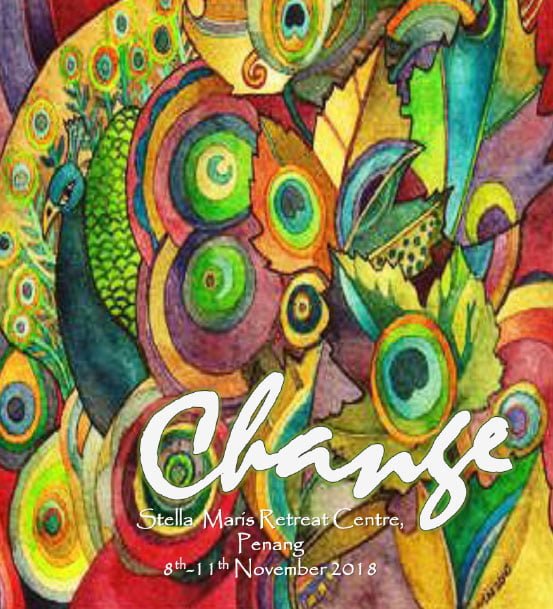 15 Oct

Change – Stella Maris Retreat Centre, Penang.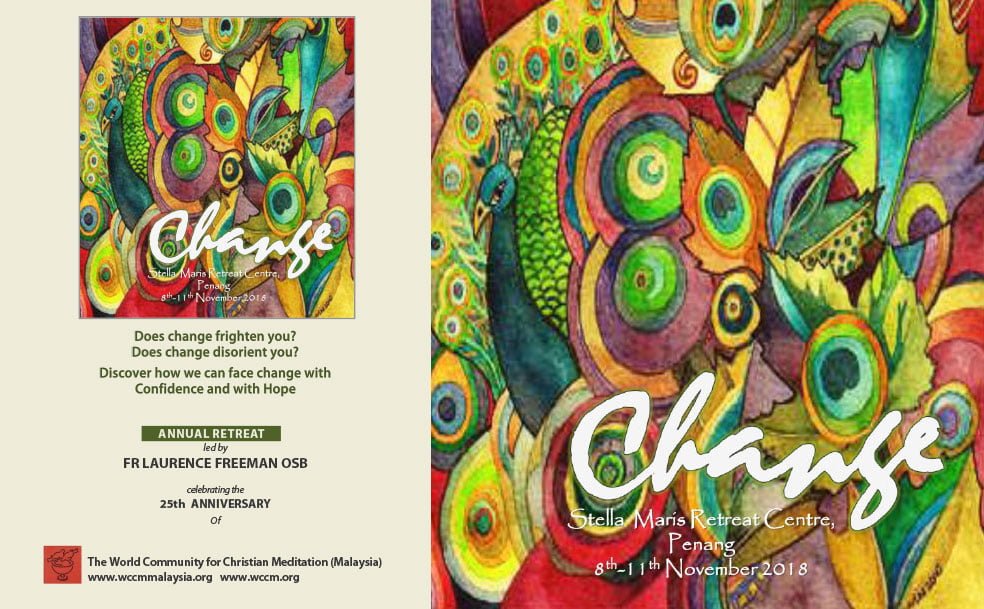 CHANGE
With the momentous changes we have witnessed taking place in Malaysia this year and in the world at large, the focus on this topic could not be more apt.
Some questions we will be pondering:
What has a contemplative consciousness to offer in times of radical transition?
Where do we find sufficient clarity and courage to cope with turbulent forces of change pounding our planet?
How do we respond to change in an anchored, balanced, humane way?
What is the way forward?
Change may be experienced as freeing and uplifting or undermining and disorienting. Life is always changing: we want things to improve but we also fear change. Fr Laurence will help us to see how the contemplative mind can face change with confidence, free from fear and filled with hope. In the stillness of the great presence, we find our way into this mystery of life.
The retreat will include input and meditation sessions as well as time for quiet personal reflection.
---
DOM LAURENCE FREEMAN OSB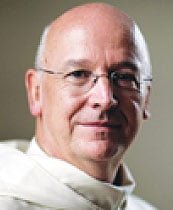 Laurence Freeman is a Benedictine monk and Director of The World Community for Christian Meditation
(WCCM), a 'monastery without walls'. Before entering monastic life, he worked in the fields of banking and
journalism and with the United Nations. In the monastery, his spiritual teacher was John Main, whom
he helped found the first Christian Meditation Centre in London.
Fr Laurence is committed to teaching meditation and the recovery of the Christian contemplative tradition. He is the author of many books, articles and recordings including Light Within, Christian Meditation: Your Daily
Practice, The Inner Pilgrimage, First Sight, Sensing God, and The Journey of Meditation. He also travels widely as an international speaker and retreat leader.
---
RETREAT PARTICULARS
DATES /TIME
Check in: Thursday, 8 November 3.00 pm
Check out: Sunday, 11 November 2.00 pm
PLACE
Stella Maris Retreat Centre
515U Jalan Hashim, Tanjung Tokong, Penang
FEES (including full board, all meals and stipend)
SINGLE ROOM: RM 495.00 TWIN-SHARE: RM390.00 per person
Rooms will be assigned on a first-come first served basis.
NOTES:
– The retreat fee is heavily subsidized by WCCM Malaysia to celebrate its 25th anniversary
– SPONSORSHIP in part or full will be considered for those who would like to attend the retreat but cannot afford the fee. If you are able to and would like to contribute a small sum towards the sponsorship fund, it will be much appreciated.
CLOSING DATE FOR REGISTRATION: 20th October 2018
TO REGISTER
Please fill in registration form overleaf and email it with copy of bank-inslip
to Mike Yong (mikeckyong@yahoo.com, 012- 4217924)
PAYMENT INSTRUCTIONS
Deposit the payment amount to the following account:
ACCOUNT NAME: WCCM Malaysia
ACCOUNT NUMBER: (Maybank) 514187358320.
Payment is not refundable except in cases of emergency. However,
bookings are transferable should you be unable to attend.
ENQUIRIES
Patricia Por, hp: 012-2338820, email: wccm.malaysia@gmail.com
Mike Yong, hp: 012-4217924, email: mikeckyong@yahoo.com
Click here to view/print REGISTRATION FORM